What happens when the densest objects in the universe collide at half the speed of light? It starts with a stretch of a wobble in the fabric of spacetime, and sometimes ends in cosmic explosions that create some of the rarest and shiniest elements in the Universe. Together we will learn how some of the most massive stars in the cosmos live and die with a bang, to create the black hole and neutron star mergers we can "hear" colliding a hundred million light years away. This 45 minute "lecture" will combine cutting edge science and wacky humour to make the mysteries of merging black holes and neutron stars accessible to all ages and backgrounds.
Society Members: Please book for the Friday event at our clubrooms, this event is for the public.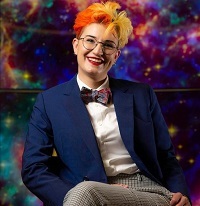 Venue: Barge Park
474 Maunu Road, Maunu, Whangarei
Barge Showgrounds Events Centre provides an idyllic compliment to our own facilities at neighbouring Heritage Park, catering for events from 50-150 people while still being close enough to our observatory to include telescopes where possible to our larger public events.